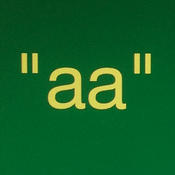 AA Quotes
Thomas Finn
Reviews: 0 | Score: 0 | Price: €0.99
Install
Exclusive for the Apple Watch ONLY! If you do not have an Apple Watch then PLEASE DO NOT DOWNLOAD THIS APP!!!
Now includes a new Glance!
AA Quotes gives you access to the most popular quotes from Alcoholics Anonymous (AA). Learn what has secretly been handed down for generations... Find the promises, the step prayers, find out what chapter and book a quote is from... Use it to lookup a quote heard during a meeting or as a great way to share a quote when you are speaking from the podium. Easily find quotes by topic (e.g., Step 5, Resentments, Acceptance). The daily quote changes each day - a great addition to your morning prayers and meditation!
NOTE: All information is displayed to the watch; no information appears on the phone.