Bank of America - Mobile Banki
Bank of America
Reviews: 334 | Score: 3 | Price: Free
Install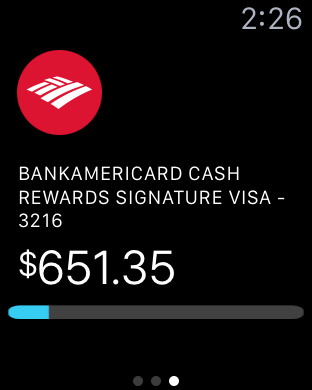 Bank conveniently and securely with the Bank of America® Mobile Banking app1 for U.S.-based accounts2.
Manage Your Accounts
• Review activity and balances in checking, savings and credit card accounts
• View mortgage, auto loan and linked Merrill Edge® and Merrill Lynch® investment account balances
• Activate or replace credit/debit cards3
• Set or edit travel notices for eligible cards
• Order check copies3
• Set app alerts to be notified of important account and security info
Transfer Money
• Securely send and receive money using a mobile number or email address (including to and from U.S. accounts outside of Bank of America)4
• Transfer funds between your Bank of America accounts
Pay Bills5
• Schedule/edit/cancel payments
• Pay eBills
• Add/Edit Pay To accounts
Deposit Checks
• Simply take photos of checks to deposit them
• Immediately see the processing deposit in your account6
Contact Us Easily
• Quickly reach a representative for help or questions with your accounts7
• Schedule an appointment to meet with a specialist
• Find ATMs and financial centers
Special Offers & Deals
• Get cash back with BankAmeriDeals® when you use your eligible Bank of America credit/debit cards8
• Get exclusive credit card offers
Help Stay Secure
• Change Online ID or Passcode
• Set up Touch ID® to securely sign in to the app instead of using your Passcode
• Use SafePass® for additional security (you'll receive a code to verify your identity)
• If fraudulent activity is suspected on your debit or credit card, we'll notify you when you sign in to the app so you can verify your transactions and unblock your card
Apple Watch®
• View account activity and balances
• Receive alerts
Apple Watch Terms & Conditions: From your iPhone®, launch BofA app, go to Profile & Settings > Apple Watch
1 All App features may not be available at all locations.
2 Requires U.S. residence for opening accounts.
3 Fees may apply.
4 Email and mobile transfers require enrollment in the service and must be made from a Bank of America consumer checking or savings account to a domestic bank account. Recipients have 14 days to register to receive money or the transfer will be canceled. Dollar and frequency limits apply. See the Online Banking Service Agreement for details, including cut-off and delivery times. Data connection required. Wireless carrier charges may apply.
5 To use Bill Pay, you must first enroll for the service in Online Banking.
6 Mobile Check Deposits are subject to verification and not available for immediate withdrawal. In the app, select Help & Support, then Mobile Check Deposit for details, including funds availability, deposit limits, proper disposal of checks, restrictions and terms and conditions. Requires at least a 2-megapixel camera. Data connection required. Wireless carrier fees may apply.
7 This feature is not available to all mobile banking customers. Data connection required. Wireless carrier fees may apply.
8 Earned cash back credited the month following redemption. See Terms for other restrictions.
App Permissions:
To use our app, you're required by the app store to accept App Permissions to allow access to certain functions on your device. Our app doesn't access these functions until you use the associated feature, such as using your location to find an ATM. For more information, visit our in-app Help.
Having general app issues? Visit our in-app Help for troubleshooting.
Terms/Service Agreement: www.bankofamerica.com/serviceagreement
iPhone, Touch ID and Apple Watch are registered trademarks of Apple Inc.
Bank of America and related trademarks are trademarks of Bank of America Corporation
Bank of America, N.A. Member FDIC
© 2016 Bank of America Corporation